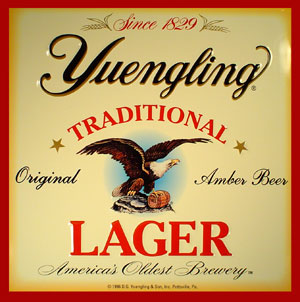 I'm writing this from The
Fam's
living room in the wonderful state of Maryland.
I'm here because it's the grandma's 100
th
birthday party tonight and as the only grandchild (on both sides) I'm part of her surprise. I'm a little nervous that my presence might cause her to have a heart attack, and therefore cause me a lifetime of bad karma. But here's hoping ...
Anyway, since
USAir
hates me, my flight was delayed for a few hours in Philadelphia. So I spent some quality time in the overpriced F Terminal bar drinking (wait for it...)
YUENGLING
!
Yuengling
(pronounced
Ying
-Ling) is fucking awesome. There's no other way to describe it. It's America's oldest brewery and its
hoppy
nectar is brewed in Pennsylvania is only available in 10 states along the Eastern Seaboard. This makes me
tremendously
sad.
But its scarcity in Chicago _ or everywhere else in the U.S. _ makes
Yuengling
all that more special when I come back home.
So, take it from me ... if you're in the Mid-Atlantic, saddle up to a bar and have a pint. You'll thank me later.