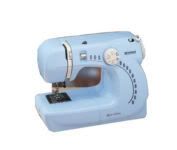 This is my sewing machine. My lovely, borrowed sewing machine. And I'm afraid it's about to die. Which is a problem on a whole variety of fronts, the least of which is that it's not, you know,
mine
.
Apparently, the
Kenmore
Mini Ultra was not designed to piece five quilts, a dozen handbags, a series of
place mats
and a variety of other projects. And now, I think it needs hospice care.
I
happened
to ask Santa (
ie
, Dr. & Mrs. Noodles) to consider buying me a new machine for Christmas. I researched and test drove and came up with
this
beauty, a Singer 7466 Touch & Sew.
Trust me when I say it's
splendiferous
, full of all kinds of fancy stitches that I'm sure I'll NEVER need, but
com'n
, really... isn't that half the fun?
The other issue is that I really, really
wanted to make
most of my Christmas presents this year. Sewing is a re-discovered hobby and I can't wait to share what I've learned and made with my closest peeps and peepettes. That said, I also don't want to put my friend's lovely machine in the grave to do it.
So, now I'm stuck. Christmas is just over a month away (Sidebar: can we take a second to have a collective "holy shit" moment at that?) and I'm stuck.
Luckily, I've been spending a lot of time at my
favorite
sewing/quilting studio on the
AMAZING
machines, which
cost
a hell of a lot more more than my mortgage payments. So I guess the moral of this story is that if you want to find me between now and Christmas, head down to
Halsted
and
Wrightwood
.
I'll be the one covered in thread while cursing like a sailor. (It's part of my charm.)