Ask any one of the moving companies who've helped me set up shop over the years and they can verify that I have a thing for books. A big thing for books. A big, freakin' thing.
My tiny condo is overflowing with hardbacks and paperbacks, even though I keep making an effort to sort through and downsize. My book collecting habit started early and I feel pretty certain I was the only kindergartner with a floor-to-ceiling bookshelf in my room that covered most of one wall. (I, um, also began my still-with-me habit of being a perpetually late library book returner. What can I say. I've got to have the occassional flaw...)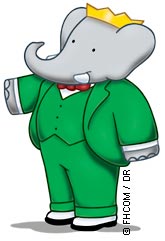 Now that my friends are all spawning, I seem to find myself wandering around in the children's section of book stores more and more. All of which has me reminiscing about my favorite childhood books.

Thanks to the parents, who are equally voracious readers, I managed to read most of the Caldecott Medal and Newbery Medal winners growing up. But I couldn't get enough of the childhood staples like Paddington Bear, Babar, Angelina Ballerina, Corduroy, Petunia the Goose, Curious George, Berenstain Bears, and more. I still have copies of Alexander and the Terrible, Horrible, No Good, Very Bad Day on my shelf and recently informed my Facebook friends that I was debating moving to Australia. I've also got a beautifully bound hardback Paddington collection.


Remember George and Martha and their effort to make pea soup? Madeline and her misadventures with the twelve little girls in two straight lines? Eloise who had the coolest life because she got to live in New York's The Plaza Hotel? (I stayed in the Plaza with my mom for a girls' weekend in my early 20s. We discussed Eloise over $14 martinis. It was totally worth it.)

So tell me, what were your favorites? Why did/do you love them? And what books do you want to make sure are on your now or future kids' bookshelves?
Want some inspiration? Check out the Children's Literature Book Club, a cool blog for grownups who still love to read stuff for the ankle-biting set.